The Foam Expo Europe will be held from November 9th to 11th 2021


The Foam Expo Europe will be held from Nov 9 to 11, 2021.
Starting in 2020, it has been a rather dark and stagnant period for the world under the influence of the pandemic, but we believe that with relentless perseverance we will eventually come out of the doldrums.
During this period, we have upheld our philosophy of innovation and sustainability, and actively developing foam materials that can be applied to a wide range of applications in any market, including industrial, marine, sports, leisure, and lifestyle.
Regrettably, due to the ongoing COVID-19 pandemic, EVA-GLORY is still unable to attend this year's Foam Expo Europe in person, but we've created an online virtual exhibition to showcase our latest foam materials/products to you.
The main foam materials/products recommended by EVA-GLORY are as follows:


+ Biobased Foam Material: DeCoto
It is developed to reduce Carbon footprint and protect the environment. DeCoto is divided into 4 types:
(1) Compression molding(DeCoto DE/DES foam),
(2) Double Expansion(DeCoto DUS foam),
(3) Physically cross linked(DeCoto DXS foam),
(4) Biobased Resins(DeCoto WB/WE Resins)
+ Recycled PE: Recycle Foam
Recycled foam is made from foam material compound (or compressed) with recycled PE resin or foam residue to create a new foam sheet.
+ Protection Foam: Nitrex
Nitrex has the characteristics of shock absorption and resistance to repetitive impact which can still maintain excellent protection in extreme weather.

+ Foam injection
It is ideal for creating complex structures, such as curves and spherical surfaces that are difficult to achieve using the traditional EVA foam forming/shaping processes.

+ Die ejection foam
We developed the die ejection foam that can be customized to meet customers' specific applications and requirements.
+ Marine deck: Deva
Deva not only has excellent slip resistance, but also UV resistance, shock resistance, and anti-fatigue. Deva can be used to reduce noise and protect the boat surfaces against scratches, chips, and dents.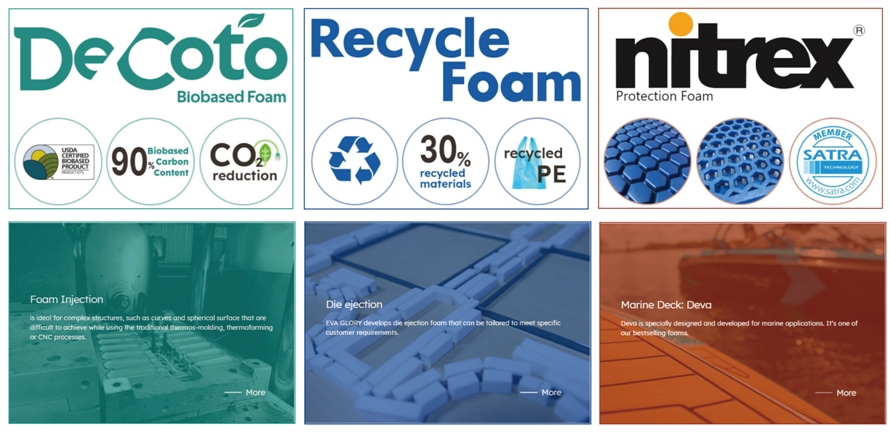 For more information, please click on the link.