The foam material for every application - Biobased Foam DeCoto

The biobased foam material not only achieves carbon reduction and environmental protection but also can be applied to a variety of needs.
The application of DeCoto Biobased Foam is the same as the general EVA foam; however, DeCoto foam differentiates itself from ordinary EVA foam because it is a composite of renewable materials (bamboo, wood, rice husk) and recycled plastic resin, which is sustainable, carbon-reducing, and environmentally friendly.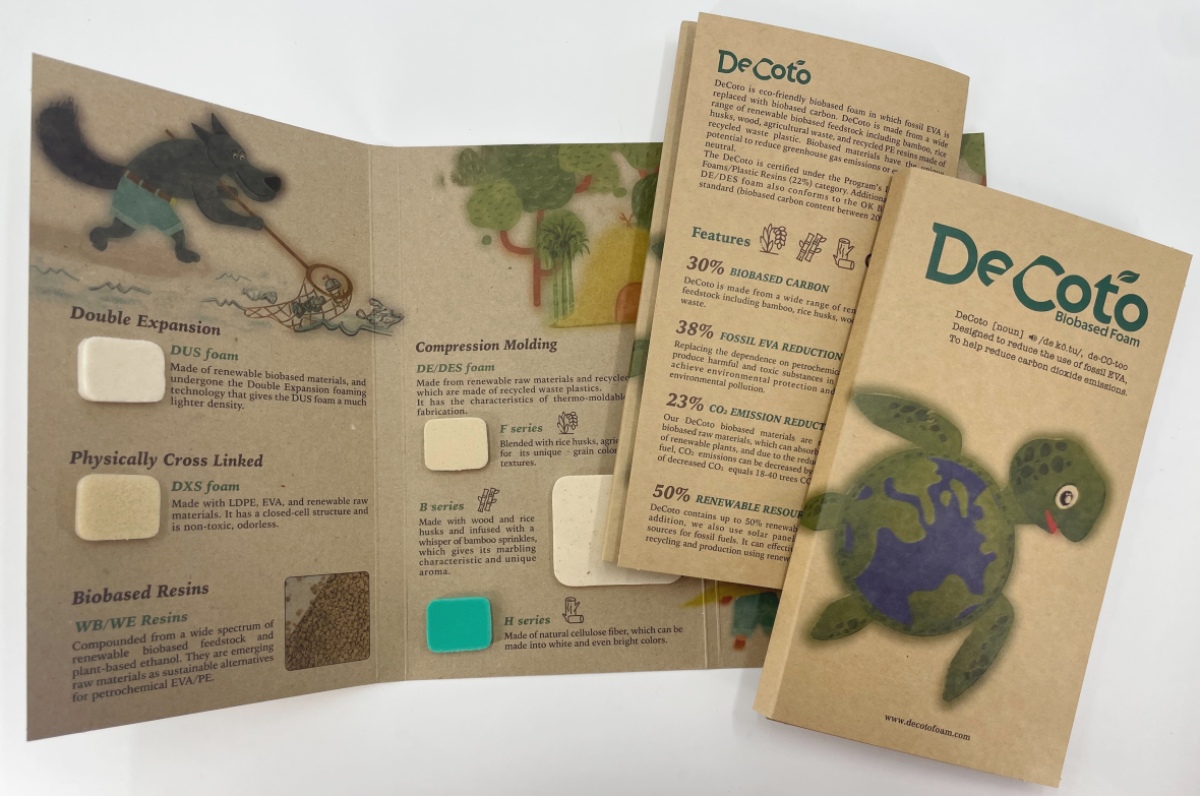 ▲2022 new catalog – Biobased foam DeCoto
We've successfully expanded DeCoto biobased foam categories by incorporating different foaming techniques such as Double Expansion Foaming and Physically Cross-linked Foaming. Furthermore, we also offer Biobased resins for a variety of applications:
DeCoto
Compression
Molding
Double
Expansion
Physically
Cross-linked
Biobased
Resins
Density (g/cm3)
0.06-0.59
0.03-0.06
0.03-0.45
Adjust as needed
Thickness (mm)
50
100
12
Adjust as needed
Foam structure
Closed-cell
Closed-cell
Closed-cell
Adjust as needed
Application
✔ Fitness accessories.
✔ Sports accessories.
✔ Yoga accessories.
✔ Massage accessories.
✔ Protection pads.
✔ Protection pads.
✔ Water (sports) equipment.
✔ Outdoor pads.
✔ Liner pads.
✔ Doesn't limit the scope of application.
▲The specification can be adjusted depending on foam formulation and application.
For more information on DeCoto biobased, please click
here
.
If you have further inquiries on product development using our proprietary DeCoto biobased foam, please feel free to
contact us
.